Check out this wonderful list of delicious food freebies, treats, and rewards for good report card grades offered by generous businesses throughout the USA!
Please be aware that since each of these businesses is independently owned and operated you should always phone ahead to see if they are participating.
AAFES
Military students in grades 1-12 can receive a $5 REWARDS Gift Card. Qualifying students can receive a $5 REWARDS Gift Card by presenting a valid military ID card and proof of an overall "B" or better average to their local Exchange. For children who receive non-traditional A, B, C grades, the parent/guardian should provide, from the school, the equivalent of what a "B or higher" is for the grading system of their child's school. This offer does include homeschooled students as well. View More details here
Amazing Jakes
Students who earn an A on a report card and bring it will receive $1 in game credit, $0.50 for a B! More Details here
Applebees
"A" is for Applebees, a positive reward system that is available to teachers (who are able to set the criteria that must be met!). The criteria options include perfect attendance, recognizing students for grade achievements and awards them with a free kid's meal from Applebees.
Bank & Credit Card Rewards
Many financial institutions offer savings deposit deals to kids who can show good grades. Discover card offers cash back for those with a GPA of 3.0 or better.
Alpine Bank
– offers a quarterly drawing for students with A's and B's. Winning report cards will receive $10 for every "A" and $5 for every "B" (or numeric equivalent) for up to five main subjects. That means your child could earn $50 for a straight-A or straight-3 report card! Also, they offer several scholarship opportunities as well.
America's First Federal Credit
offers the Honor Dollars Bonus program. They will deposit $5 into a students account when they provide a report card with all A's and B's.
Discovery Federal CreditUnion
offers a Straight A Pay-Day program where they will deposit $1 for every "A" into the child's savings account, up to $20 per year.
First Credit Union
Pay's for A's, students receive $1 per A up to $5 per quarter, $20 per year
First Southern National Bank
Offers a "Pays for A's" program and will deposit $1.00 into a First Southern Statement Savings account for every "A" a student makes on his or her report card, up to $10 per grading period. Students should bring their report card to any First Southern branch to redeem.
Zion Bank
offers a program to the hardworking middle school, junior high and high school students ages 12-18 can earn $1 per "A" on their report cards. Eligible students are also entered for a chance to win a scholarship savings account valued up to $1,000.
Baskin-Robbins
In the past, some Baskin-Robbins locations will give away a free scoop of ice cream via a Baskin Robbins Honor Roll Free Scoop Certificate. which is given to qualifying students by their teachers. You can check with your local Baskin Robbins to see if they are participating in this offer.
Cheryl & Co
Kids can score a free cookie for every 'A' they receive on their report card at participating locations only. View full details here
Chick-Fil-A
Some Chick-Fil-A locations offer an Honor Roll Night or other report card deals that may include a free Chick-fil-a Kids meal.
Chuck E. Cheese
Chuck E. Cheese, kids earn game tokens for their grades. There's a limit of 10 tokens allowed per child and a food purchase is required. View full details here
Esurance Good Grades Discount
By being a full-time high school, college, or university student under 25 years old with at least a 3.0 GPA (or a "B" average, if your scale is different). At Esurance, we believe when your mind stays sharp, your driving skills tend to follow. You're typically eligible for the discount while enrolled as a student and up to one year afterward.
How much you could save: Up to 10 percent on liability, collision, and medical payments coverages.
Family Video
Family Video locations across the country will give free movie and game rentals to students with an A in a core subject on their report card. K-12 + College can pick up a rental. (Must Show Report Card) View Complete Details here
Flying Squirrels- Free Minor League Baseball Game Admission
Flying Squirrels (Richmond, VA) – Score An "A" Free Ticket Program – For every "A" on your current K-12 report card during the 3rd & 4th marking period you will earn a FREE General Admission ticket to a regular season Richmond Flying Squirrels' game!
GD Ritzy's
GD Ritzy's offers a Scoops for Scholars program
Kindergarten – Jr. Scoops of Ice Cream
1 A = Medium flavored soft drink
2 A's = Single Scoop of Ice Cream
3 A's = Hamburger, Cheeseburger or Hot Dog
4 A's = Double Scoop of Ice Cream
Haute Dogs and Fries
Last year Haute Dogs and Fries tweeted out a wonderful offer for students and graduates to receive a
Free Ice Cream No word on whether the offer will be repeated this year, but if you have a Haute Dog and Fries location near you, it's certainly worth following them.

Hoss's Family Steak & Sea Company
Got a great report card? Bring it to Hoss's in June to get a FREE kid's meal with the purchase of any adult entree. (Straight A's not necessary, but if you did get A's, that's Hossome!)
Jason's Deli
Jason's Deli Kid Cash – Both teachers and parents alike can get Kid Cash to reward kids under 12 for good grades which can then be redeemed for a free kids' meal.
Justice Stores
Justice Stores, the Tween girl retail store Justice will give you $5 off your purchase. (Must Show Report Card)
Krispy Kreme
Reportedly, some Krispy Kreme Doughnuts locations will give a free glazed doughnut (up to 6) to students for every A on your students report card. (Must Show Report Card)
Logan's Roadhouse
Reportedly, their Gadsden, AL location is offering a free meal (up to $8) to kids with A's and B's, you must bring the report card.
Marcos Pizza
Reportedly, some Marcos Pizza locations are offering a free one-topping pizza to students with an A on their report card. The promotion begins on June 1 and runs through the end of the month. K thru College.  Read More Here
Milk & Sugar Scoop Shoppe
The Milk & Sugar Scoop Shoppe is offering Free kiddie scoop each grading period with all A's and B's
McDonald's
Reportedly, some McDonald's locations are offering students with Straight-A kindergarten through 5th grade can earn a free Happy Meal when they bring in their report cards. Grades 6-12 get a free Value Meal. This is not nationwide, call your local McDonalds to see if they are participating.
The Melting Pot
The Melting Pot has a few locations that offer a Free Fondue Dinner for high achieving students in K-8th grade who have scored straight A's on their report card. Two previously participating locations include Appleton, WI and Boca Raton, Fl. Be sure to phone your local location to see if they're participating.
Peter Piper Pizza:
In the past, some locations offered an "A's & B's = Cheese", a free 7-inch one-topping pizza for good grades, while others offer game tokens for each "A" on a report card. Be sure to phone your local location to see if they're participating.
Pizza Hut
Pizza Hut, if you have 3 A's on your report card, you get a free Personal Pan Pizza and a small soda or milk. Dine-In Only for elementary and middle school students. View complete details here
In addition, Pizza Hut also offers the Book It Program where kids can earn a free personal pan pizza by reaching a monthly reading goal.
Six Flags
Six Flags offered a Read to Succeed program that encourages children in grades K-6 to read for fun. Each student who completes 6 hours of recreational reading can earn a Free Ticket to Six Flags! View complete details here
Skate Park of Tampa
Skate free when you bring in your Honor Roll report card from the most recent grading period.
Sonic Drive-In
Sonic offers a positive behavior support certificate for various achievements such as honor roll, perfect attendance and birthdays. In addition to the certificate, the student also receives a coupon for a free menu item as well. view full details here
Uno's Pizzeria
Uno's locations are proud to sponsor students achieving great heights! They reward kids for perfect attendance, participation in read-a-thons, as well as decent grades. View the full details here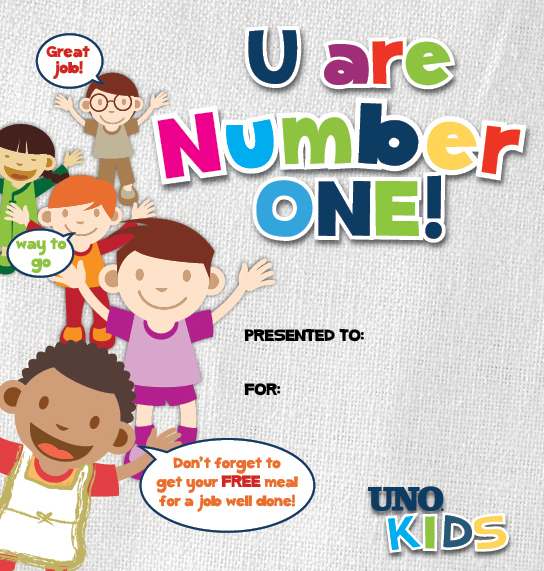 Wendy's
Reportedly, at some Wendy's locations, showing your report card with A's and B's earns a delicious treat. (Must Show Report Card)
Please note, just because locations participated in the past does not mean they are automatically participating this year, please call ahead to check!
If a business in your area is participating in a Report card reward, please feel free to share it in the comments below so others can enjoy it as well!