Stockpiling a decent freezer stash can really help save on the grocery bill, but having your freezer is disarray causes you to think you're out of something when you're not! Here's a simple way to organize your freezer and determine food safety during an extended power outage.
How to Avoid Getting Lost in the Shuffle
We have several large freezers and over the years, we've discovered that the best way to organize your freezer to avoid food spoilage and having items get lost in the shuffle is to separate them using tote tubs.
Using the totes makes this very easy to organize your food by date as well as type. Each type of item gets its own tote: Chicken, Pork, Beef, Ground Turkey, Halibut, Frozen Vegetables, Cheese, etc.
Divvying the contents of the freezer into totes makes it very simple to see which items are running low and need replenishment without having to keep lists on the freezer. To get the most out of the space, freeze items flat (such as soups, pie fillings, etc) and then, once they are completely frozen stand them up in the individual tote tubs.
Follow FIFO
Having worked in a restaurant, we follow the FIFO rule, which is First In, First Out. Essentially what the means is- you use things up in the order that you purchase them. If you have frozen chicken in your freezer and you buy more, you place it BEHIND the chicken already there- so that the chicken you purchased first is used first. This way, you're not ending up with freezer-burnt food that has lost quality and nutrients.
The containers used here were purchased at Lowes in the storage/organization department for about $2-3 each. I prefer the heavy-duty black plastic ones that are meant for garages because they dip in the front and make it easy to grab items quickly.
The other containers are clear plastic tubs that I purchased at Walmart for $2-3. They slide out easily and work great. You can fit 2 containers per shelf and still have room between them for loaves of bread, ice cream, etc.
For our family, this method is preferred over the "Make a list of the Freezer Contents and cross it out as you go" method because it seems that I was the only person in the household to ever pay attention and cross things out! It also makes it simple to "eyeball" what items you're running low on. The next time you grab a package of chicken or pork (etc) you can see quickly whether you have plenty or need to add it to the grocery list.
Food Safety due to Power Outage
We live in an area that is prone to severe storms, tornadoes, and the occasional hurricane as well. It's not unusual for us to lose power one or more times per WEEK. Since we have a tendency to travel, camp or otherwise spend time away from home doing other things, it's imperative that we know how long the power has been out to ensure the food in our freezer is safe to eat.
The easiest way to do so is to fill a straight edged cup 3/4 of the way full and freeze it. Once it's completely frozen, place a quarter on top. In the event of a power outage, the ice will start to melt. If you think there's been an outage, simply check to see if the quarter is still on top (or the middle) of the ice, if it isn't, that means the freezer dropped to an unsafe level and the food may not be safe to consume.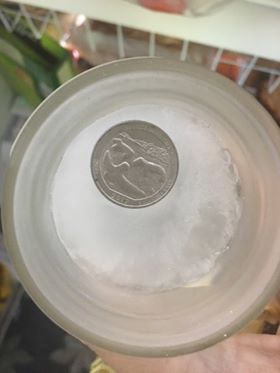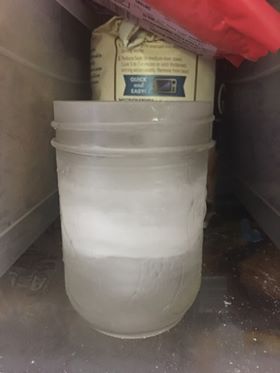 To ensure this works, be sure to use a straight glass, if it has "shoulders" like the mason jars pictured below, the glass WILL break.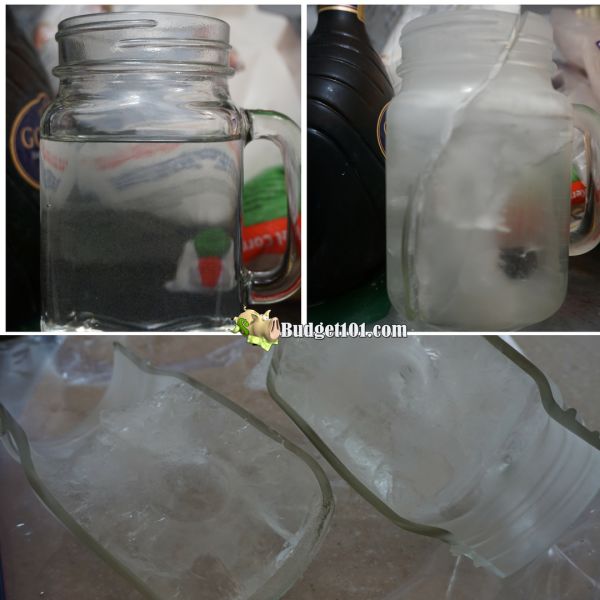 How do you organize your freezer?
We'd love to see your tips as well . . .